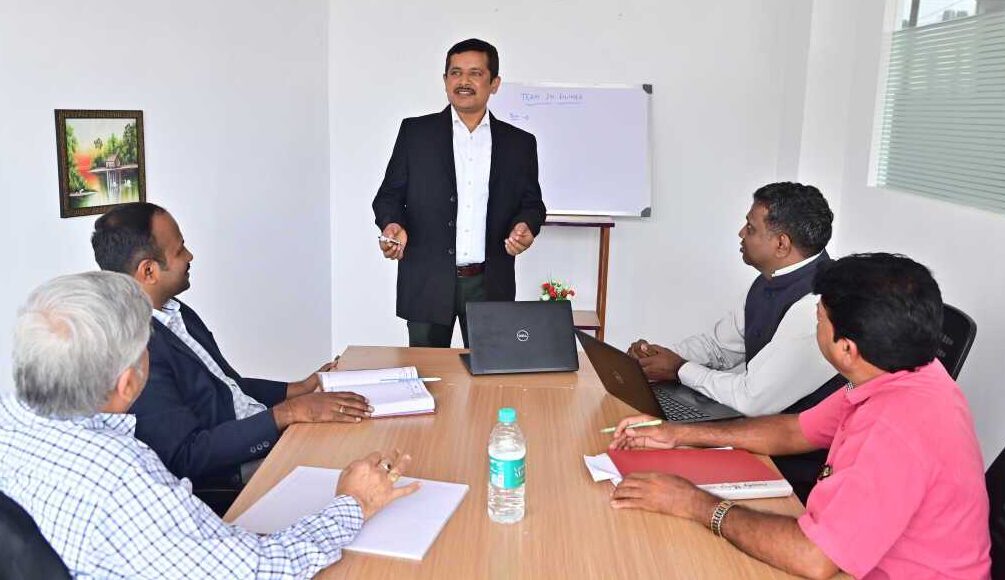 We Are Committed To Helping Our Partners Overcome Any Challenge And Attain Spectacular Results
Prakasha & Co is a reputable and well-established company secretary CS CA Law firm, that offers comprehensive and customer-centric services to businesses in the form of expert company advisory and legal advice. Our Company Secretaries are specialists in corporate governance and compliance, ensuring that our clients stay current with the latest regulations. Our Chartered Accountants provide expert financial counsel, enabling our clients to make informed business decisions. Our Advocates are experts in corporate and commercial law, providing legal advice and representation as required. With our collective expertise, we offer a one-stop solution for all of our clients' business needs.
"Prakash&co is a highly professional consulting firm. We can depend on them to be transparent, smart, and committed to our growth and the Business success in short-span."
"For over 10 years, Prakasha & co has consistently proven their ability to understand our business needs and help us outperform our expectations."
"When we needed help to manage the strategy and rollout of a complex marketing plan, Prakasha & co turned out to be the perfect facilitator."
With Decades Of Proven Experience, Our Team Is Prepared To Help You Achieve Your Goals, And Beyond.
With a decade of experience as a practicing
company

secretary and expertise in

company law

, GST, taxation, and

trademark

law, He is well-versed in the complex legal and financial matters that companies must navigate.
Meet Mr. Prakasha CR, a distinguished Fellow member of the Institute of Company Secretaries of India, the visionary founder of Prakasha & Co., a leading Practicing Company Secretaries, GST, Income tax, and Trademark practitioner based in Bangalore.
With over 12 years of professional experience in the field of corporate law, compliance management, corporate secretarial matters, accounting, income-tax, Intellectual property matters, GST, and audit matters.
Read More
Mr. Prakasha is a seasoned expert who has helped businesses across industries navigate the complexities of legal compliance and achieve sustainable growth.
Prior to starting his practice, Mr. Prakasha worked with big MNCs like Essar Steel and Levi's, where he honed his skills in corporate law and compliance. He has also worked in both practicing CA and Company Secretaries offices, gaining valuable experience in providing legal counsel to a diverse range of clients.
Mr. Prakasha's commitment to excellence is reflected in his educational background, which includes a master's degree in Commerce and a degree in the General Law (LLB). He has also successfully completed certification courses on Intellectual Property Act and Goods and Service Tax (GST) conducted by ICSI, New Delhi, adding to his already impressive credentials.
As a philanthropist at heart, Mr. Prakasha is the founder of "Team India Foundation," a non-profit organization that undertakes and implements CSR projects and charitable activities. Through this initiative, Mr. Prakasha has contributed to the betterment of society by supporting education initiatives and helping underprivileged communities.
Under Mr. Prakasha's leadership, Prakasha & Co. has become a trusted partner for businesses in Bangalore looking for Corporate legal counsel and compliance services. With a client-centric approach and deep understanding of the Indian legal system, Mr. Prakasha and his team have helped businesses across industries achieve compliance with ease, enabling them to focus on their core competencies and drive growth.
Mr. Prakasha CR's journey as a legal professional and a philanthropist is a testament to his commitment to excellence and his desire to make a positive impact on society. As a founder, he has inspired and motivated many to pursue their dreams and make a meaningful difference in the world.
Read Less
With a decade of experience as a practicing
advocate

and commercial lawyer, and expertise in court matters. He has been into commercial matters, civil and litigation, company law, GST, tax appeals etc.
He is a an Advocate by profession, holding decade of experience on the court matters. He has thorough understanding of the relevant laws and regulations, as well as a strong track record of success in the area of practice. He is responsible to clients' needs and inquiries, and should be available to provide timely updates and support.
Read More
Providing range of services in the
legal field
. Mr.Satsh C, excels at finding quicker and more efficient legal solutions to corporate legal issues and obstacles that are of the highest quality.
Our Lawyer plays an important role in providing legal advice and representation to businesses. They can help businesses to navigate the legal landscape, understand their rights and responsibilities, and take legal action when necessary. They can provide legal advice and representation in areas such as commercial law, corporate law, labor law, intellectual property law, and more.
Read Less
Prakasha CR  is an experienced company secretary and his Legal team can provide you range of legal and administrative support to a business, helping it to comply with relevant laws and regulations and to operate efficiently and effectively. Some of the specific ways in which our office can support a business include:
Prakasha & Co, a team of CA CS and business consultants, offers diverse support to businesses in various sectors. Our experts, including company consultants assist businesses in multiple ways.
We launched with our Company Advisory consultancy service on the 1st August, 2010 in Bangalore The company is committed to providing unique and original corporate and legal strategies as well as solutions that serve the needs that our customers.
Prakasha & Co is a one-stop service for a corporate law firm, Gst, Taxation, and Trademark with 3 Partners with Associates/Consultants. The areas of practice include company planning, legal matters , ROC Corporate agreements and tax planning and infrastructure projects, project finance litigation and alternative dispute resolution Constitutional law, Intellectual Property and technology practices government and regulatory matters including trade law, anti-dumping, environmental laws, and infrastructure projects.
Frequently Asked Questions